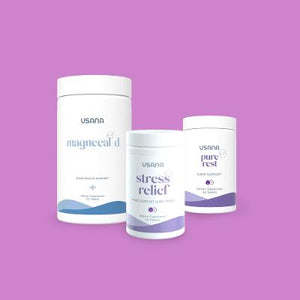 SAVE ADDITIONAL 20% WITH THIS BUNDLE.
Keep calm and carry on with this selection of mood and sleep supplements
The Find Your Zen Bundle features three premium USANA products to help support a balanced emotional response, well-being, and sleep.*
Stress Relief: Dynamic formula featuring ashwagandha, saffron, and lemon balm to help support your mood.*
Pure Rest: Fast-acting, ultra-pure melatonin supplement naturally regulates your sleep and wake cycles. It's both effective and non-habit forming.*
MagneCal D: Provides balanced levels of calcium and magnesium, along with advanced levels of vitamin D. Magnesium also supports the regulation of the sleep hormone melatonin. Help healthy muscle relaxation and sleep with magnesium—the calming mineral.*
Shop today to enjoy this targeted solution at a great price.