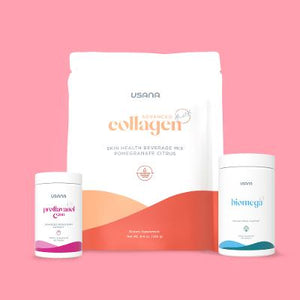 SAVE ADDITIONAL 20% ON OUR LOW PRICES.
Optimal nutrition to give you glowing skin, health skin and nails, and reveal inner radiance.
The Beauty Glow Bundle features three premium USANA products to support healthy, radiant skin, hair, and nails starting at the cellular level.
Advanced Collagen: Formulated with a blend of type I and III collagen, biotin, and vitamin C to support healthy skin aging and maintain skin elasticity.
Proflavanol C200

 

(56 count): Bioflavonoid grape seed extract combines with Poly C vitamin C blend to deliver powerful antioxidant protection and help support collagen production.
BiOmega: Round out your topical moisturizer routine with dietary omega-3 fatty acids. They can help support a healthy skin barrier and maintain hydration from the inside.
Shop today to enjoy this targeted solution at a great price.