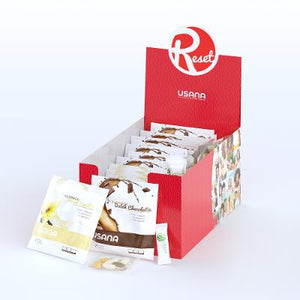 The 5-Day RESET™  weight-loss jumpstart program is a simple approach to help you make a clean break from the effects of unhealthy foods and jumpstart healthy eating habits.*
Every day, simply replace three meals with a delicious and nutritionally balanced Nutrimeal™ shake, take your HealthPak™ and USANA® Probiotic supplements, eat whole-food snacks, exercise, and practice healthy lifestyle habits.

In only five days, you'll experience the difference a healthy lifestyle can make and will be ready to take the next steps in your journey to better health.*

Each 5-Day RESET kit includes:
15 Nutrimeal™ single-serve packets

 

(8 Dutch Chocolate, 7 French Vanilla)—USANA Nutrimeal is formulated with the right ratio of complete proteins, beneficial fats, fiber, and low-glycemic carbohydrates to help you maintain your energy levels. This creamy and delicious shake will keep you feeling satisfied while also cutting back on calories.*
5 USANA®

 

Probiotic stick packs—USANA Probiotic blends two of the most documented strains of good bacteria that help bring balance to your belly and support your gut microbiome—the core of good health.*
5 AM and 5 PM HealthPak™ packets—USANA HealthPak helps ensure you get the optimal amounts of important micronutrients.* It includes USANA's top-rated

 

USANA®

 

CellSentials™

 

(Vita-Antioxidant™,

 

Core Minerals™),

 

USANA®

 

MagneCal D™, and the power-packed CellSentials Booster, which is made exclusively with

 

USANA InCelligence Technology®.
Program guide and tracking card
*These statements have not been evaluated by the Food and Drug Administration. These products are not intended to diagnose, treat, cure, or prevent any disease.

†For our customers sensitive to gluten: No gluten-containing ingredients are used in this product. However, they are produced in a facility that manufactures other foods that do contain gluten. These products are produced on equipment that also processes peanuts, tree nuts, eggs, wheat, sesame, and shellfish.
Individual results may vary. The 5-Day RESET program lowers your daily caloric intake and recommends moderate exercise for best results.
It is suggested that you take these products to your physician and secure their advice if you intend to change your diet, begin an exercise program, are pregnant or lactating, have allergies, are taking medications, or are under the care of a physician.

Children under the age of 18 should not participate in the 5-Day RESET program, except on the advice of their physician and/or dietician.