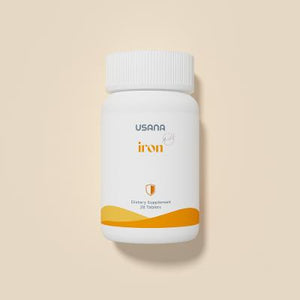 Fortify your healthy habits with our premium iron supplement
The USANA Difference
From active athletes to mothers-to-be, iron is a vital mineral that supports your body—especially when it comes to energy production. It's a key staple to help fortify your health.
For years, USANA-sponsored athletes have been using this top-quality iron supplement. And now, this premium formula can be a part of your healthy lifestyle.
Iron is a mineral that's found nearly everywhere you look. Even your own body contains trace amounts to support a variety of important functions.  
Your blood cells use iron to carry oxygen throughout your body to help give you the energy you need. And our premium iron supplement is ideal for those who live an active or busy lifestyle.
Energy production and oxygen level support are also important for healthy pregnancies.
USANA Iron is 100% vegan, making it an excellent source of iron for those with specialized diets.
Health Benefits
USANA Iron supports a variety of body functions to help strengthen your healthy habits:
Promotes healthy oxygen levels
Contributes to cellular energy production
May provide nutritional support for healthy pregnancies
Supports a physically active lifestyle